Sunday is always one of my favorite days. It's my time to relax and catch up at home. I often don't leave the house (except to get in a surf) if I can help it!
Today there has been a bit of activity in the bloggy world! I always mean to get busy but then I log on to the computer and there are so many wonderful blogs to read, that 2 hours later, I have not accomplished anything!!
First off I am giving a shout out the the latest collaborative blog on the block.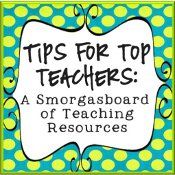 A bunch of my wonderful bloggy friends and I got together for a new blog with lots of teacher tips, freebies, ideas and products. Make sure you head over and check it out!
Next up I have been Boo-ed!! Not once, but twice. I should feel bad, but this is a happy Boo-ing:)

Patty over at
2nd In Line
and Heidi at
My (Not So) Elementary Life
have Boo-ed me. I'm flattered!! This is a little linky party to mention some of our favorite bloggers. Well this is a tough one because I follow over 200 blogs!! Eeek! See why I can't get any work done!! So here are a few newer bloggers that I have had the pleasure of getting to know over the past few months:

Heather from
Teach It Today
She has a super cute October activity that I love!
Mercedes at Surfing To Success

I mentioned her in my last post. She has some great clipart
and some other cute items in her
TpT
and
TN store
.
and
Teri over at First Grade Princess
Teri has the prettiest blog design with a Hawaiian theme that I am jealous of!!
She works in California, but spends a lot of time in Hawaii:)
I hope you will check out these great ladies and follow their awesome blogs!!
This week report cards are due, I have a field trip and I have a workshop on Thursday!
Busy, busy, busy....Hope your week won't be as hectic:)